About Marilyn
Bio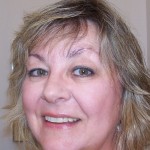 As a jewelry artist, my passion is design and my outlet to satisfy this consuming interest (obsession is what some of my friends call it) is to saw, cut, hammer, form, sand, grind, solder, forge and polish precious metals and gemstones into miniature works of wearable art.
From early childhood, I was visually inspired by color and form. My first love during elementary school was drawing. A high-school art class briefly covered jewelry making and since then I have been hooked. Further jewelry classes taken through the years have expanded my technique, knowledge and of course, desire.  In college I majored in Business Administration and have earned my living for more than 35 years as a bookkeeper.  Gardening, painting, handcrafts, sculpture, gourmet cooking and interior decorating satisfied my creative drive after college.  But I continued to work at my jewelry off and on in some form during all those years.
Then came the big change.  After years of working at a high stress job, health issues dictated that I change careers. This presented me with the opportunity to do what I had always dreamed of: jewelry design and creation.
With the support and encouragement of my husband, also a working artist, I now work with copper, brass, gold, silver, found objects and gemstones to create one of a kind jewelry. I have taken a few college-level classes, workshops and private tutoring in metalwork. But I am largely a self-taught jeweler. Jewelry takes so many forms that I will never learn all the techniques. But, that is what keeps it so exciting!
Artist Statement
I specialize in custom jewelry design. My clients often request a stone as the starting place for an original design. Working with a client to create an original piece of jewelry that fits their unique personal style is one of the most satisfying aspects of my work and an added bonus to doing what I love.
My design style is a mix of contemporary and eclectic. It incorporates elements from nature, soft curves, and geometric shapes. Much of my jewelry incorporates more than one metal and often includes one or more gemstones, which often makes color the important first step in my design. Finding the right color combinations can make or break the design. I make dramatic and bold jewelry, but even if the piece is to be small scale it must still "speak" to me.  Hopefully you will find something that will speak to you.
All of my work is made by hand in my private studio using time honored fabrication methods; nothing is ever cast, manufactured or created by any one else. Because I enjoy the design phase best, my handmade pieces are one of a kind or limited editions.  Please contact me with your ideas and let me create a personal piece just for you!
Marilyn Lamar