About John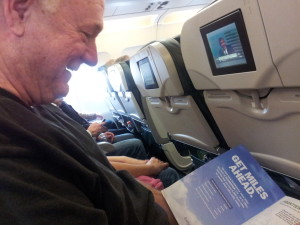 Bio
I have been active in the arts for more than 43 years, beginning with my undergraduate work at Arkansas State University. Additional art education includes College of DuPage, Rockford College and Rockford Art Museum. My extensive fine art background includes work in printmaking, painting, sculpture, design and murals reflecting my social, political and spiritual concerns.
My wife and I became involved in the local art scene in Rockford, Illinois in 1990 as co-owners / curators of Gallery 451. This artist-run gallery for local and emerging artists provided a co-op for local artists and mounted 8-10 shows annually, which included 2-3 juried national shows annually.
After closing the gallery in 1996, I turned my focus full time to my own art. I currently do shows in Illinois, Wisconsin, Indiana, Michigan, Florida and Arizona. I am pleased to be able to say my work is in many private and public collections in the United States and abroad. Some of the juried shows include: Greenwich Village Art Fair, Rockford, IL; Art in the Park, Elmhurst, IL; Riverwalk Fine Art Fair, Naperville, IL; Amdur Productions' shows in Barrington, Chicago Botanic Gardens, Evanston, Cantigny, Lincolnshire, Buffalo Grove, Gold Coast, Milwaukee WI, New Buffalo MI and West End; Ann Arbor, MI; One of a Kind Show, Chicago, IL.
Artist Statement
A large part of the inspiration for my sculptures comes from nature. The rich colors inherent in the copper and the malleability of the metal itself, I find are the qualities necessary to bring life to the trees, flowers and animals I create. The work is of hand-forged copper which has been colored with heat rather than with the use of chemical patinas. It is literally painting with fire.
My paintings are in sharp contrast to the themes found in my metal sculpture. Here my subject matter is most frequently either political or completely abstract. Bold, dramatic colors, large expressive strokes and movement are characteristic of my painting.
I hope you will take a few minutes to look at some of my work that I have here.  I thank all of my faithful patrons.  Please contact me if you have an idea for a sculpture or painting – I'd be proud to work with you.
John Lamar